You can bet that those condominiums for sale along the Scout area sports at least one fitness center in their compound, armed with the gym equipment you'll ever need to get that hot body you're dreaming of. There are times, though, when leaving the comforts of your home can feel like a drag. So if you want to do some exercises but don't want to go to your nearby gym, then here are a few routines you can try out inside your condo unit.
Sumo Squats
Go the extra mile by doing Sumo squats instead of the usual squat routines! Not only does it burn more calories, but it also stretches your lower leg muscles and butt muscles. Start off in what ballerinas call a plié; that is, position your feet in a squat wider than your shoulders with your feet pointing outward. Then squat down, bending the knees with your back straight and your knees not going further beyond your toes.
Bicep Curl
If there's one exercise you'll always see done, it's the bicep curl. Most people think that you immediately need weights to do this routine but you can always improvise with a couple of water bottles filled with water, sand, or anything heavy. While holding the weights or water bottles, stick your elbows to your hips and just let your arms hang loosely. Then bend your arm towards you until your forearm reaches your chest. Twist in your wrist a little as you do it. Slowly move down your arm until it reaches the first position. Do this 16 times on each arm.
Tricep Kickback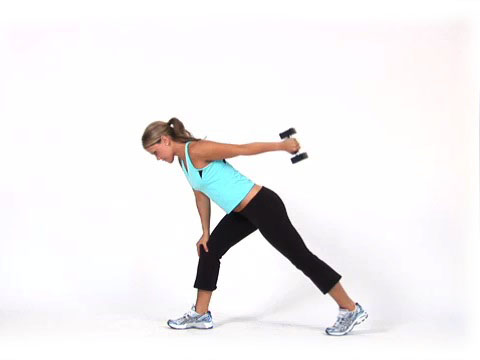 Tricep kickback will be harder to do than to the bicep curls, but it'll all be worth it. Start in a standing position with your knees bent and your left foot forward. Bend your upper body forward at your hips and keep your torso taunt. Put your left hand on your left thigh for balance and support. Pull your right arm backwards and bend your elbow. Holding your weight, stretch out your right arm then pull it back. Do it 16 times on each arm.
Lunges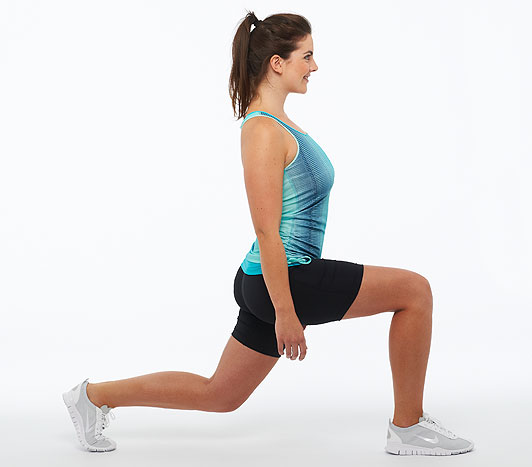 What ladies want are toned fabulous not only while they're in a bikini but while in a mini skirt as well. And a few rounds of lunges can help them get just that! Stand straight then place your feet hip wide apart. Put your hands on your hips then place the right foot forward. Keeping that foot flat and the heel dug in, bend both knees with the other leg in a kneeling position and your right bent forward towards your toes. Step back and repeat with the other leg. Do it for 16 times each leg.
Crunches
Crunches help work out your abdominal area, one of the hardest muscle groups to work out (it's also the one area that everyone wants fit and toned). Grab a mat or towel. Lie down on it and bend your knees with your feet flat and forward. Put your hands behind your head to support it or if you think you can do this exercise without moving your head forward, stretch out your arms. Tilt your head up and tighten your torso. Get ready and pull your upper body forward. For those who have their arms stretched out, until you reach your knees. Inhale and slowly lower down your body.
You might complain at first when exercising, but as soon as you've slipped on your summer get-up you newly toned body will scream it was worth it. One last reminder, though, before you start doing these routines: always remember to stretch before doing any of these exercises to lessen the muscle pain the next day.